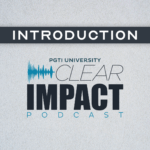 The Introduction Series on the Clear Impact Podcast continues with another Rockstar on our Marketing Team. Today we meet Josh Soto, who is on the Marketing Team for PGT Innovations. Josh and I had so much to discuss we actually divided our conversation into 2 podcasts.
In this first episode, we learn how Josh landed in a marketing role here at PGT Innovations. We also discuss why Digital Marketing helps our dealers succeed in today's climate, and how we are helping them to elevate their online game.
Listen to Part 2 for the rest of our conversation with Josh Soto.