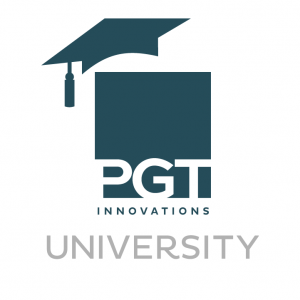 Welcome to
PGTI University!
Our new LMS is now active for PGT courses!
ALL USERS – Click "Training Begins Here"  (upper right) to access, then…
New users? Welcome!
Choose "REGISTER" and complete your profile to access.
Existing users? Welcome back!
Choose "SIGN IN". Your email is your username. Your temporary password is changeme.
Questions?
Reach us at pgtu-dealereducation@pgtindustries.com.
Coming soon – the Mobile platform!
"Thank you all for the informative seminars. It was a pleasure to have met you all. The work and effort placed into the presentation, as well as the enthusiasm along with the knowledge displayed were inspiring. I applaud the dedication and professional approach you all portrayed throughout the week."
"I can only make the observational presumption, that you all are highly regarded experts, not only amongst your colleagues within the company, but in the fenestration industry as well." 
Jimmy, recent attendee
Visit and subscribe to our YouTube page
EXCEPTIONAL TRAINING. OUTSTANDING RESULTS.